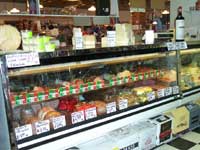 You'll also find an array of sausages, cheese, and meats - including Parma prosciutto - as well as prepared entrees - like ready-to-cook rotollo and frozen party-size lasagna. Just the ticket for family get-togethers!














We have a wide variety in our grocery section of the store. Consider one aisle: half is dedicated to olive oil-small, large and huge bottles for really serious cooks; the other half is fully stocked with canned tomatoes. Fresh pasta is in a cooler in back. Conte Di Savoia also offers a variety of frozen ravioli. You can buy fresh ground coffee along with lots of bread, wine, olives, chocolates and pasta bowls.


Sandwiches & Party Subs
Click Here to see our Menu.
Sandwich Trays (24-3'' Pieces)
House Specials
Antipasto Trays (20/25 People) (10/15 People)
Catering
Advanced Notice Required On Party Sub Orders!